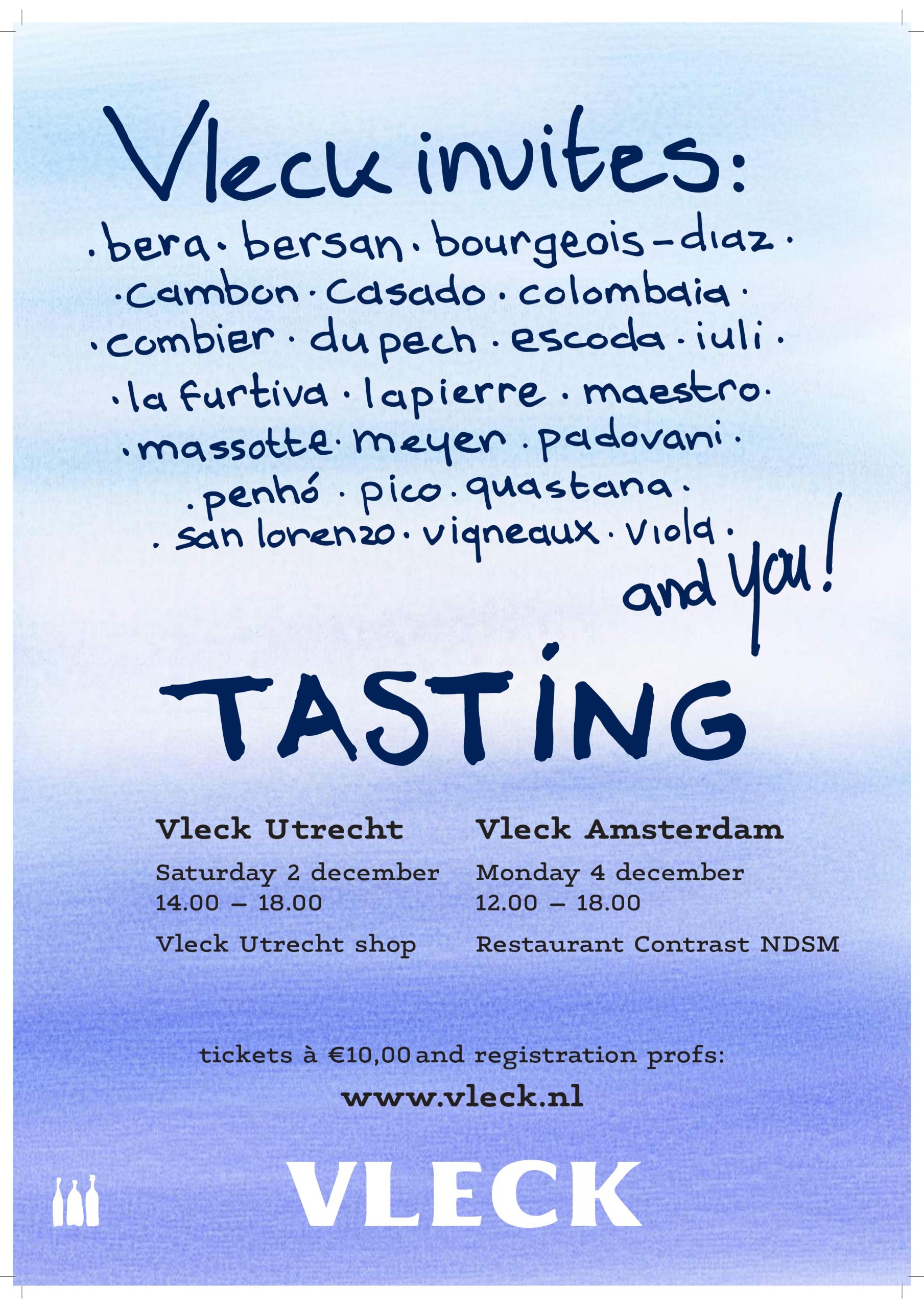 Vleck wijnen organizes once again a big 'Meet the Winemakers' event. This time over 20 winemakers from France, Italy, Portugal and Spain wil present their wines.
In Utrecht on the 2th of december from 14.00 hrs till 18.00 hrs we celebrate the opening, last september, of the new astonishing Vleck wineshop.
In Amsterdam on the 4th of december from 12.00hrs until 18.00 we host the event at Restaurant Contrast, a very special venue on an old ship on the NDSM-werf, which is easily accessible with a ferry from Amsterdam Central Station. During the day the crew of Contrast will serve bites, so you can take a rest and relax on the ship's beautiful basement with a bottle, in order to finish the tour of 120+ different wines.
Please register (for prof's, please contact info@vleck.nl) or bye tickets at € 10,00 : tastingtickets
Domaine Bersan,  Côtes d'Auxerre Chablis
Bera Vittorio & Figli, Monferrato Asti 
Bourgeois-Diaz, Champagne
Château Cambon, Beaujolais
Arnaud Combier, Beaujolais Bourgogne
Ramon Escoda, Conca de Barberà
Fattoria Iuli, Monferrato
Alfredo Maestro, Castilla y Leon
Pierre-Nicolas Massotte, Roussillon
Patrick & Mireille Meyer, Alsace
Francesca Padovani, Fonterenza, Montalcino
Fattoria San Lorenzo, le Marche
Les Vigneaux, Ardèche